I wasn't going to do it. This is veering from my niche of Disney, Family and Travel…but I have been asked about the best way to start a blog.
I didn't set out to be a "blogger about blogging." (And I'm still not.)
BUT, I love my blog! 
I LOVE channeling my energy into something that is mine…but also benefits others. Since starting FFW, I have been asked by some friends how to get started with blogging…hence this post.
FlipFlopWeekend was launched in May of 2017 as a creative outlet. I like to be kept busy, have a background in Journalism and realized I was spending so much time on social media…wasting time…that I should really just turn it into something.
So, I did. But, I wanted to do it right.
A few years ago, I had a free WordPress blog that had maybe 6 readers… my mom and in-laws. I am linking it here so you can see my failed first blogging attempt…I believe in transparency. But, don't judge… I know…sad.
Don't get me wrong, I love it when friends and family read my posts.
But if I am going to work hard on writing something…I want to be read and accessible by many people.
Call me selfish. But when I do something, I want it to have value…not just for me, but for others. So, I started learning and researching how to do this blogging thing correctly.
It got overwhelming fast!
There were so many "bloggers about blogging" telling me how to do it…sometimes contradicting each other. My inbox became full of free webinars, email classes, why I should be focusing on one platform…but that one platform HAD to be Twitter, Facebook, StumbleUpon, Instagram, Pinterest, G+, Tumbler….etc. What the what?
It was exhausting.
I just wanted a good looking website, to share my love of Florida and Disney. I thought "if I end up making a few bucks. GREAT!'
Slowly but surely, I have started to figure it out.
I just hit my first 10k pageview month which is ridiculously exciting.
A little bit of money has been made…and I thoroughly enjoy knowing that people are reading, enjoying and learning from what I post! I had a reader ( someone I don't know) say she ran across my post to overwhelmed moms planning their Disney vacations and she said it 'spoke to her soul.'
That was a huge compliment and motivation to keep doing this blog thing I am doing!
After

a lot

of trial and error, the growth has really come down to three key tips and tools I used and would recommend to anyone looking to start a successful blog.
But, here's the dealio— I am not a blogger about blogging. I am a blogger about Disney, Travel and Family Fun. 
In fact, if you get a pop-up on this page, it will probably be for either my free inspirational Disney quotes ( which are pretty cute, if I say so myself) or my travel planning template.
I have no webinar, masterclass or course that will miraculously turn your blog into a money-making machine. Maybe someday I will have some of that helpful stuff… but it won't be until I truly know I can do it well and can give you something truly valuable.
For now, I'm just someone who may be a couple of steps ahead of you and want to share what I have learned thus far, and where I have invested my time and money to see the growth. 
So, without further adieu, here are my 3 simple tips to start a blog that gets readers!
1) Get Yourself Some Solid Hosting
Yes. You can start a blog for free on WordPress. If you want to do that to just blog for your family and internal joy, by all means…have at it. However, as exhibit A, mrslawrencecooks.wordpress.com shows, you just don't have the features and functionality of a self-hosted site.
With free blogs, sadly the only way to be found is generally if someone is looking for you or you are spending hours promoting.
Who wants to type url.wordpress.com in a search bar? With MrsLawrenceCooks…. I didn't even want to type in my own URL.
No judgment to those of you with free blogs.
If money is tight and you just want to get your feet wet, go for it.
Just know that a point may come where you want to grow your site and won't be able to. Many affiliate programs won't work on sites that are not self-hosted. You will also essentially be on your own when it comes to any technical issues or customer support.
The good news

is that going self-hosted is not too expensive. 
I use

Siteground

to host my blog and HIGHLY recommend it.
Siteground has been a fantastic host for FlipFlopWeekend and I have used others.
I actually started with Hostgator because it was the cheapest plan at the time. Unfortunately, whenever I would have trouble with my site and get on customer support, the answer usually involved some sort of "upsell" or plugin that would require a more expensive hosting plan. I wanted a security certificate and would need to go to a business plan at $200/year.  Uh…. my blog had maybe 100 readers at the time.
I immediately started shopping around and saw that Siteground offered free security certificates on their basic plans.
I signed up for $3.95/month ( payable at one time), and they transferred everything for me…for FREE! My entire site was taken care of without me needing to do a thing. It was amazing. 
Plus, when I had questions about page optimization and having Google tell me I needed to " leverage browser caching' ( I still don't know what that means)… I could hop online to Sitegrounds 24/7 customer support, and they would go in and fix the issue. I don't know a lick of code ( other than what I can google and paste from online), so this was incredibly valuable. Half the time, it wasn't even really a job that would fall under Siteground's umbrella, but they are so helpful and responsive. Hostgator would just try to sell me something.
My only regret is that I didn't purchase the full 3 years at the promo rate at once. I did just one year to "see how it goes." So, when I renew I will need to pay a bit more. It still isn't crazy. If you think you will be in it for the long haul, you will definitely get more bang for your buck if you purchase their 3 year plan at $3.95 a month.
2) Understand and Utilize Pinterest
I remember when Pinterest first came out and you had to be invited to it. It was an incredible platform and has just exploded in popularity. Think about the site that most people go to first when they are trying to solve a day to day problem?
"What is the best chocolate chip cookie recipe?"
"Quick and Easy Dinner-time meals"
"Cheap Family Vacations on a budget"
"How to caulk a tub?'
You guessed it… Pinterest.
A lightbulb went on when I learned that Pinterest isn't just social media… it's a search engine!
If you want people to read your blog, you

have

to become friends with Pinterest! Once I figured this out,

my blog traffic went nuts.
I began using Pinterest as a means to find what others were searching for, what did they want…and I use that to guide my content to make sure that I am providing value.
I transferred my personal account to a business account and began utilizing it as a business tool. Now, I do not have a separate Pinterest account. Anything I like, I pin…so it is still very much a reflection of the recipes, crafts, ideas, travel destinations and everything in between that I love and enjoy. But I have studied and researched the method behind the madness. I began with an e-book, Pinterest Ninja, that was amazing for beginners.
Megan has built a business around Pinterest and passes on all her tips in an easily digestible e-book, that costs less than $40. Plus, she promises all future updates for free! She is also incredibly supportive in her Free Facebook group and it was the best way possible to get traffic to my blog with little investment. If you have been on the Pinterest platform for a while, you may find some of the initial content repetitive. However, her guides to finding group boards and enabling rich-pins really helped me to understand a few key components that I was otherwise overlooking.
Click Here To Find Out More About Pinterest Ninja
Scheduling Pins 
Pinterest Ninja taught me what I needed to know about group boards, providing keyword-rich descriptions and introduced me to a community of other bloggers who were all building Pinterest together. Through them, I learned about scheduling through TailWind. For just a few dollars a month, you can automatically schedule pins, essentially putting your Pinterest on autopilot. There is even a free tribe option, where you can still collaborate with other bloggers and share pins, even if you don't use the scheduler. But, it is so worth it to know that Tailwind is picking the optimal times to schedule my pins, even if I am at work or sleeping!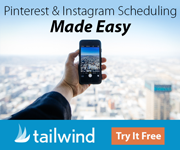 Update: For a while I also implemented Boardbooster, along with TailWind, but BB recently underwent serious scrutiny from Pinterest, so I am back to Tailwind only. Tailwind is an authorized scheduler for Pinterest, so you won't have any trouble utilizing it.
Tailwind has a better free trial period, but BoardBooster is slightly cheaper per month if you pay monthly. I actually have chosen to utilize both. Tailwind pins my tribe content and I can diligently schedule for certain times throughout the week. With BoardBooster, I can loop certain boards to pin to other boards, essentially turning my Pinterest into a completely self-sustained hands-off machine ( unless, of course, I am looking for a solid cookie recipe).
3)Build a Community
I am saving the best for last. Blogging can be a solitary venture. Despite the number of bloggers and digital nomads out there …a large part of the population still struggles to view this blogging gig as a legit thing.
"Oh…you're a blogger!" "That's cute." (Get used to hearing things like that.)
The reality is that blogging is an incredible way to share and spread information. Major brands are looking to bloggers to create content that promotes their services and drives readers to their businesses.
Even though my blog is still probably considered to be in " hobby" status… my 17k pageviews this month and email list are full of people that like Disney, Food and Family fun. They want to know what to pack in their Disney bag or what other things they can do while they are in Orlando.  Your blog is your space to share what you know to those who want to know it, too. And that is super cool!
All that to say,

it is important to find a support group of people who get what you are doing and why you are doing it.
Enter Dare To Conquer ( formerly the 

Billionaire Blog Club

!)
(No…it's not made up of Billionaires. Not yet, at least). But, the club was started by Paul Scrivens who has successfully launched 13 blogs in various niches. I originally signed up for his free 12-Day Blogging Boot Camp, which put me on his mailing list.
After completing the course ( which was super valuable in its own right), his emails would come and sometimes I would bury them in with the other " people trying to sell me stuff" virtual pile of emails. But then, I would open some…and they were not trying to sell me anything. They were giving me a free tip….or asking for advice on the best crib for a baby ( he is a new dad). Then, occasionally, he would mention his program. It was expensive..at least to me when I had no income off the blog yet. I am not gonna lie. But, he offered a fantastic deal at one point and I knew that if I was going to go to the next level, I needed to invest in this…just as I would any other hobby (or potential business venture) I was serious about.
With DTC, you can purchase individual courses for things like Pinterest or Affiliate Marketing. Or, you can purchase a full membership and get access to everything…forever! Plus, you get access to his exclusive Slack community.
This is where the value is.
A 24/7 platform of like-minded bloggers sharing ideas, troubleshooting ideas and celebrating wins. If you need feedback on a headline…pop in and ask. Wondering why something looks weird in WordPress…pop in and ask. Not to mention Paul is highly visible and active in his community, offering an immense amount of support. It is truly worth every penny. I bit the bullet and bought in December. My Google Analytics immediately moved skyward.
My only regret is I didn't buy in sooner. I would have saved myself SOOOO much time trying to find the information elsewhere.
But at the end of the day:
Without a shadow of a doubt, when I was willing to invest a bit into my blog and myself, I got SOOOO much out of my investment in growth and traffic.  
Before nailing down these three tools and tips, I wasted time trying to grow on Instagram only to find it brought zero traffic to my blog. There were also some other free courses and resources I had gone through. Plus, I even purchased another course and have not yet finished it becauseDTC, has been THAT valuable. 
If you invest anything, invest in the above tools and I can guarantee you won't be disappointed. 
If you are a beginning blogger, feel free to drop your link in the comments and say hello! I would love to check out your corner of the internet!